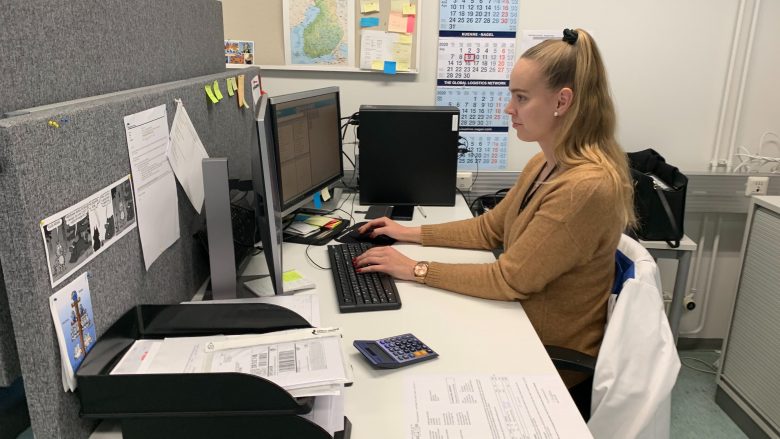 "That green board inside the computer", I described printed circuit boards to my family as they asked what Aspocomp produces. Because my generation is born with smartphones in hand and ready to browse the web, I had already as a kid examined the inside of a computer and noticed such things there. In addition to that I was able to tell there are holes in pcbs since a former Aspocomp employee had told me so. When I first heard that I got the job, I googled what printed circuit boards are in English, knowing I would need the word. Then I simply had to quote these. In Finnish Lapland, where I come from, we have a saying "sole poka mikhään" which basically means it's no big deal.
My name is Essi Maalismaa and this summer I was working at the customer service at Aspocomp Front Desk. I come from Tornio but have lived in Oulu for three years. This spring I graduated as a Bachelor of Economic Sciences, so I have started my master's studies at the University of Oulu now.
International customer service
The first thing that caught my attention in the job ad was the internationality and customer service in B2B sales as I have gained experience in it and like the combination. I enjoy B2B -sales because the customer relationships are usually longer lasting and more meaningful. Also, the customer service is of course easier when the customers represent a company and not just themselves. These were the two main themes of my job this summer.
In a position like this, it is important to know the right people because if you know who to ask, you can solve basically any problem. Networking has been a hot trend recently and this job has made it rather easy. I want my job to be international, meaningful and include interacting with other people. And these are the things that I got this summer. On the other hand, as everyone knows the best (and the worst) thing about customer service are the customers.
I was surprised how international the business that Aspocomp conducts from Oulu is. We have staff here and there globally and the customers and partners come from all around the world. Unexpectedly, I heard I would be doing some PCB trading business and I did not have any experience nor knowledge of it or how it is done. However, it turned out that it was no rocket science and soon, with the help of my colleagues, the boards started moving quite smoothly from one continent to another.
No pain, no gain
It was very clear from the beginning that if there was a question that even the superwomen of Front Desk were not able to answer (which is rare), there would be someone at Aspocomp who could give an answer. Anything me or the customers could possibly ask, someone would have the answer. Usually several people. Another thing that was clear for me was that you can always ask. And there will always be someone that is ready to show where this or that is or how something is done.
All the help was needed because there is no way we could always avoid problems. Machines have stopped working, mistakes have been made, technical difficulties have occurred and sometimes the time has been going by way too fast. Of course, the current unstable situation has had its effect on our jobs too. It would be amusing to know how many times I have included the word "unfortunately" in my emails. Anyway, all the time I could rely on the fact that someone would help me and just like that the problems have become history.
As the summer came to an end, I realized I actually know a thing or two about printed circuit boards even though it's not often one can casually examine those. It is fun to notice the logos of our customers and think that there they could have a pcb that I have quoted or inserted the order into our system. There are still so many things that I don't have the slightest clue about since there are about a million different possible characteristics of a printed circuit board but just like that I have quoted and I customers have placed orders. Evidently, I have done ok.
Thank you!
I want to that all my colleagues near and far for always helping, reminding, and clarifying things even though I have sometimes unintentionally made some pranks for you as I have made mistakes. It has been fun to get to know you. I would also like to thank our customers and partners who, after all, make all this possible. I will continue my studies now, but you will hear from me again, next summer at the latest. Until that, I wish you all a very pleasant autumn!
By Essi Maalismaa