Quality Policy
At Aspocomp we understand that we are being appraised by our customers, personnel, suppliers and other stakeholders every day.
We aim to produce our products and services in such a manner that they bring value to our customers.
We also understand that we all are responsible for upholding quality – and thus we constantly train and develop our employees.
We know that customers' quality requirements are constantly increasing and we want to develop ourselves by means of self-assessments and continuous improvement programs.
This Quality Policy is strongly supported by Aspocomp's values
Quality Management System
Aspocomp and all its employees are committed to operating in line with our Quality Management System (QMS) which has been certified according to the following standards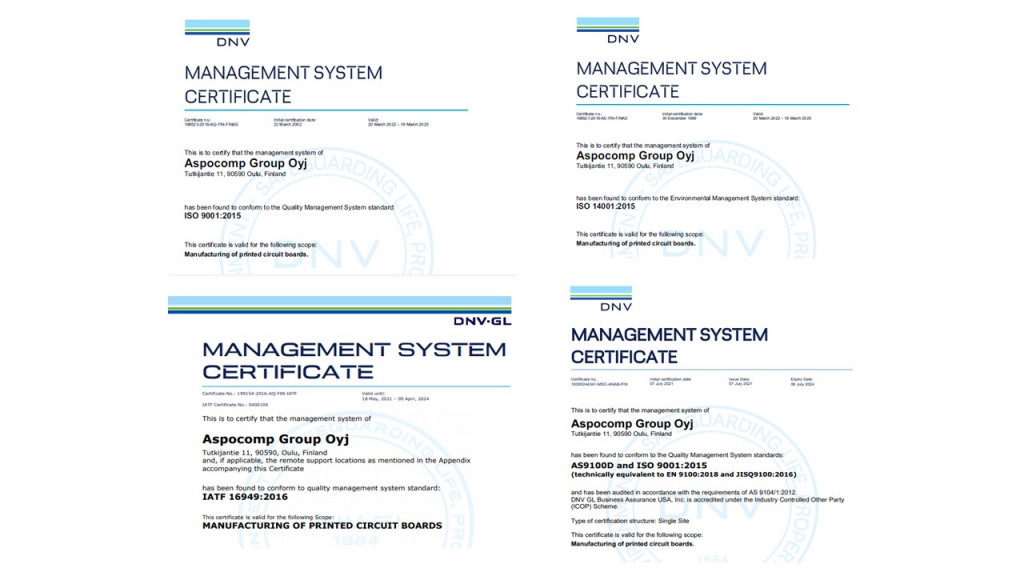 Environmental Policy
Aspocomp operates as a subcontractor in the electronics industry. In our Oulu factory we manufacture printed circuit boards for customers using high technology PCBs. The environmental compliance is managed with an environmental system that has been certified in line with ISO 14001, the latest version of the standard. Our goal is to operate efficiently in all areas and consider the environmental impact in all of our activities.
We follow existing environmental laws and regulations. The authorities are monitoring our operations based on the environmental permit.
We improve our operations by training our personnel and by co-operating with customers, authorities and other stakeholders to secure the well being of our environment. Aspocomp can provide its customers with detailed material reports that itemize the chemical elements and compounds used in each PCB. Customers can consult these reports to determine the recyclability of the final product at the end of its life cycle. If necessary, Aspocomp helps its customers organize PCB recycling by utilizing its partners.
We are committed to preventing the damage to the environment and continuous reduction of harmful environmental effects by
Reducing emissions
Saving natural resources
Using the best available and economically feasible technologies and energy efficiency
Using best practicies from the environment point of view.
Obeying the waste law