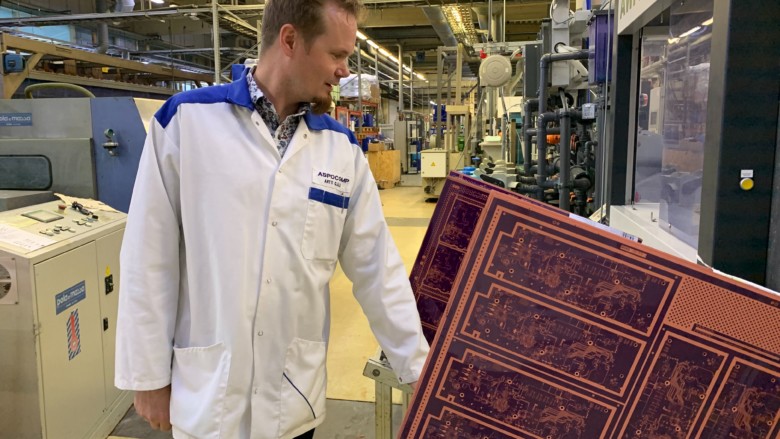 Forty-year-old Aspocomp taps into the right megatrends
In spite of the uncertain business climate, Aspocomp is in good shape and has a bright outlook as its 40th jubilee year approaches its end. The company faced challenges on the heels of changes in the telecommunications industry, but is now growing in new sectors. By tapping into the right megatrends, Aspocomp has claimed its place in the heart of digitalization as a partner to the world's leading technology companies.
The story of PCB technology company Aspocomp reflects the industrial history of Finland over the past decades.
Its story began in 1979, when the company was founded on electronics expertise in the Oulu region. It grew at a rapid clip during Finland's cellphone boom. In 1999, Aspocomp was demerged from the Aspo Group as an independent listed company. As times changed, Aspocomp faced new kinds of challenges.
For instance, Aspocomp's colorful history includes the founding of a plant in India – which was not completed before the company initiated sweeping structural changes. However, Aspocomp did not give up. The employees believed in themselves and their expertise. Management created a credible strategy – shareholders had enough faith in this strategy to be patient as the company weathered its most difficult years.
Their belief and patience was rewarded. Aspocomp celebrated its 40th anniversary this year and has operated as an independent listed company for 20 years. It has successfully ventured into new customer segments to generate growth. Net sales and earnings in the first part of the jubilee year are promising. Although the global markets are slackening, Aspocomp has found a suitable niche and remains on a growth track.
How was this achieved?
Mikko Montonen, President & CEO of Aspocomp since the spring of 2014, summarizes the secret of the company's success:
"We stepped up our sales efficiency. We shifted from product-focused thinking to a serviceoriented, customer-focused approach to operations and harnessed our own strengths."
The company's strengths include the specialties of its Oulu plant: high-tech expertise, agility and suitability for producing small series that mass manufacturers in Asia are not interested in or which are simply not a good fit for their processes.
"As we developed our own operations, we analyzed the markets to identify new fields of business that could benefit from Aspocomp's expertise – one of these is the automotive industry."
Cars, development, testing
The automotive industry is now one of Aspocomp's fastest-growing customer segments. Whereas a cellphone includes only a few PCBs, one car requires as many as 140 – and in the years ahead, vehicles will feature even more technology.
In addition to the automotive industry, Aspocomp has heavily specialized in product development and testing of semiconductors.
"Aspocomp PCBs are used in the testing of high-tech components for 5G, the automotive industry, industrial internet, machine-to-machine and digitalization needs in general," says Montonen.
5G, the latest generation of mobile data, is now everywhere. It substantially speeds up data transfer and thus paves the way for great changes in many industries. For Aspocomp, this means new customers and projects in years to come, as long as the company ensures that its expertise and processes remain state of the art.
A friend of megatrends
In addition to mastering high-tech and high-quality operations, Aspocomp has needed strategic wisdom to succeed. Aspocomp has known how to identify international megatrends that support its own operations and seize the opportunities they open up.
Many of these megatrends are based on technological development: in addition to 5G, these include robotics, artificial intelligence and the industrial internet, for instance. Other kinds of trends are also involved, such as higher tensions in global politics – Aspocomp's expertise is also required in solutions for the defense and security industry.
Aspocomp laid the foundations for its current success largely during the Finnish telecommunications boom. The company has been able to adapt to ensure that its robust expertise remains interesting to new industries and customers. Thanks to its well-rounded expertise, Aspocomp has claimed its place in the heart of digitalization as a partner to the world's leading technology companies.