Aspocomp has been working with thermal management solutions with our customers for a long time. We sell and manufacture PCBs, and know the state of the art solutions for cooling your PCBs.
Faster, higher, smaller and hotter
Managing high component temperatures in PCBs is today more important than ever. Faster clock-speeds, higher data rates, use of higher frequencies and miniaturization increase the demand for thermal management. Especially high power transistors need special solutions for local cooling. Overall thermal management has become harder and harder. PCB manufacturers have developed thermal management technologies for PCB's to help customers with their heat challenges.
Aspocomp is one-stop-shop for PCB Thermal management solutions
Aspocomp can offer several technologies for PCB thermal management. We have long experience on working with technologies such as:
Via farm cooling by plugged and capped vias / IPC Type VII
Embedded Copper coin technology (I, T and C-coins)
Thick copper layers
Metal-back boards (pre- and post-bonded)
More information regarding our thermal management technologies can be found here.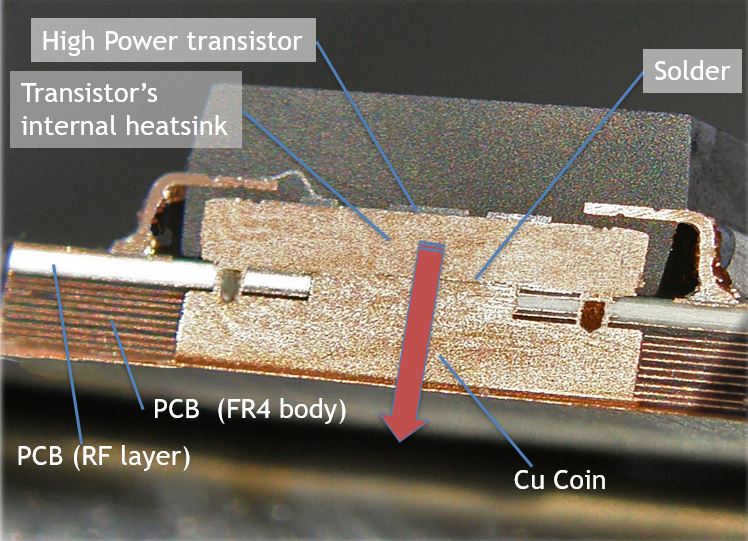 The picture above could be an example of a mobile network base station power amplifier. PCB in the bottom with a copper coin forms an excellent thermal path for the excess heat generated by high power transistor.
Aspocomp can provide leading edge project support for thermal management technologies on PCBs, including stack-up engineering, dedicated design rule recommendations and material pre-booking. This pre-work will enable smooth and prompt launch of the PCB manufacturing at the shop floor. Consequently, these preparations enable quick turnaround (QTA) approach for PCBs with thermal management technologies – with speed for which Aspocomp is best known at.
No matter, if your heat management needs are related to complex high-end PCB's we make in our factory in Oulu, or volume products with lower technology that we can supply via our partners, we can consult on available solutions and make sure the optimal is selected. Contact our Sales team for detailed information on our thermal management PCB technologies or you can leave us a message in the form below and we will help you to a flying start with your new thermal PCB project.
Cool – isn't it!
Contact our Sales team for detailed information or Markku directly. He his a well known industry specialist on advanced PCB technologies.
Markku Jämsä
Head of Technical Sales
Espoo, Finland
markku.jamsa@aspocomp.com
If you like we can contact you.
Leave your contact details and we will contact you within 24 hrs